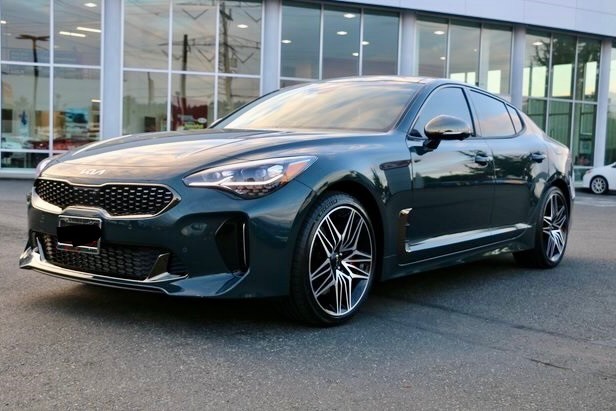 Last November, after nearly a decade driving the same Ford Focus ST (only to about 45,000mi), I finally broke down and bought something new. The motivation was a combination of a few factors: restlessness, comfort, features, and an upcoming road trip vacation. Truthfully, as much as I love a fast car, I've reached a point in my life where comfort is equally as important. This "review" is written several months after that roadtrip, and with nearly 4,500mi on the odometer. The roadtrip alone was about 3,000mi round-trip.
Why not Electric?#
Let's get this part out of the way upfront. I really thought that my Focus ST was going to be my last internal combustion engine (ICE) car, but that was just not to be. In spite of there being a few good options on the market that I was interested in, there were 3 major issues that really prevented me from making the switch.
Home power. I live in a 110yo bungalow in Seattle, and it is served with less than 100A service. That means that fast-charging is impractical. Upgrading the service, replacing the main panel, doing all necessary code-related upgrades, and finally installing an actual exterior charger was a non-trivial amount of money.
Street parking. Like many people in Seattle, I park on the street. Typically, this is not a problem, but in this case it represented one. One option, I proposed to the city, was installing a charging post at the curbside near my house and feeding it through conduit under the sidewalk. No go. It would impinge the right-of-way for Seattle City Light. The other option, running a cord across the sidewalk, technically impeded access to the sidewalk, a large no no.
Public charging infrastructure. There is now a lot of charging built up around highways and interstates, but local charging infrastructure still largely depends on home charging (see #1 and #2). The closest charger is on Beacon Hill, only 1.5mi away, but an elevation change of over 500ft (down 250, up 300). THat's just not a practical option.
Surely, though, this will be my last ICE car. Fortunately, I don't drive much, and now work permanently from home, whereas before I took a bus to work (go mass transit!).
Purchase#
The funny thing is… it wasn't supposed to be a Stinger. I had actually ordered a Genesis G70 sedan several months before my roadtrip. And then it sat, and sat, and sat some more on a ship, in a storage yard, everywhere but in my hands; multiple months past its original date. A few days before the roadtrip, having resigned myself that I wasn't going to get my new toy in time, I got a call from a local Kia dealer asking if I was "still interested". Turns out they had a Stinger GT sitting on the floor that they wanted to part with at the end of the month, so I drove down that day. Words were exchanged, and money as well, and I drove home with a car with less than 10mi on the odometer. I paid sticker, but got quite a bit more for my trade than I expected.
Specifically, I bought a 2022 Kia Stinger GT (GT2 package) AWD in Ascot Green.
Exterior#
We can start with the looks of the car. That's where everything starts, isn't it? For me, most modern cars are horrible in appearance. I realize that much of that is driven by safety decisions, but the American love of SUV/CUV has really depleated any creativity and interest from the car market. I'm not an SUV person; I love wagons and hatchbacks. I love their versatility and accessibility. I love the way lower slung cars look and drive.
And just look at it.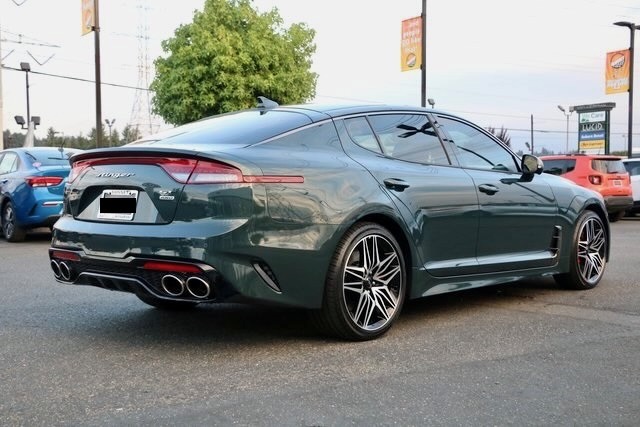 The proportions are "old school". There are haunches in the rear that feel taut and muscular. Yes, there's hints of Audi, but is that so bad? The color, Ascot Green, is lovely: shimmery and distinct from the sea of gray that is modern color choices.
Also, it's a hatchback. That matters. You can stuff a rather absurd amount of stuff in the hatch.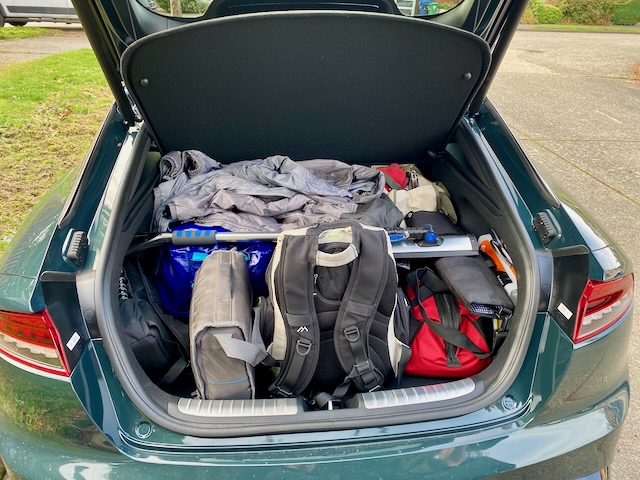 In that hatch (which closes easily, with the cover still in place and the seats up) is:
Camera bag with Sony mirrorless, large Joby tripod, etc.
CPAP for my partner
Gigantic snow brush
Two sets of TireSocks - The car has staggered sizes and is AWD
Mobile toolbag
Random cloth bag with misc kitchen goods and such
Messermeister padded knife roll
4 jackets (2 "winter" for the PNW and 2 light rain for destination)
That is why I love a hatchback. There were a lot of extra stuff since we were heading through snow country, and specifically the Siskiyou Pass in OR/CA, which is notoriously unpredictable, and often has mandatory show chains. Fortunately, we didn't actually need it, and the weather was safely above freezing for that part of the drive.
Finally, one last beauty shot. The rear three-quarters view is just excellent.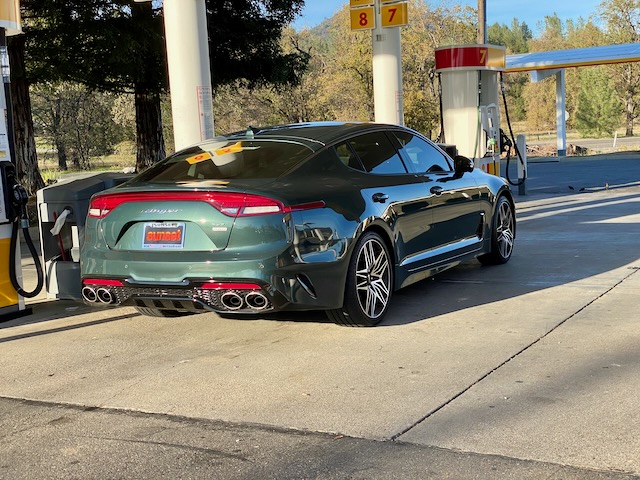 Interior#
As important as the exterior is on any car, the interior is what people spend all their time in, and looking at. In the case of the Stinger, I would say the interior is on par with what companies like Audi were doing just a few years ago. No, it's not comparable to a 2022 Audi, but it's also 5-figures less money. The layout, however, I think is very clean and makes the appropriate trade-offs between form and function, something I can't say about a lot of modern cars, and I honestly love the triple center vents. I also love "mechanical" gauges, even though I know they're all digital behind the scenes.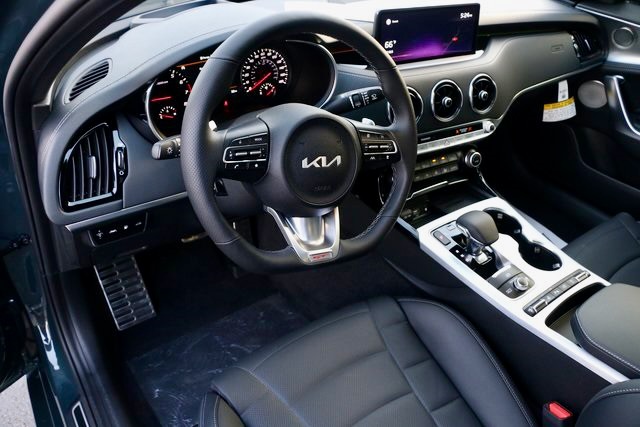 The interior is a good place to be, in general. The seats are comfortable, although still not up to the standards of my SAAB 9000 Aero years ago, and more accommodating to different body types than the Recaro-sourced seats in the Focus ST. They are wildly adjustable, though, both for the driver and passenger, including bolster support. The leather feels good, if not great. It's said it's "Nappa", but doesn't feel quite as luxurious as some of its competitors. And both front seats are heated and ventilated, which is nice, especially since the heat actually shows up quite quickly compared to all the other cars I've had.
In the rear, the seats are comfortable, if less supportive (pretty typical). They have adequate legroom, which I always test by seeing if I (6ft 3in) can sit behind the driver when the driver's seat is positioned where I want it. This passes that test easily. The rear doors do have a bit of a curve due to the body style that makes getting in and out slightly more challenging. One nice feature that is largely un-heard-of at this price point is that the outer rear seats have individual 3-level heating controls.
One nicety, that I feel guilty for enjoying quite as much as I do, is the heated steering wheel. While it only has a single setting, it heats quickly, and on a cold day, it makes a world of difference as the rest of the car heats up.
The only negative I'd offer is that the upper part of the gauge cluster is simply not visible when the seat and steering wheel are positioned where I personally prefer. This is largely offset by the heads-up display (discussed below).
Driving Performance#
I'll start with the easiest, speed. The car tests, in controlled circumstances, at about 4.5-5.0 seconds for 0-60MPH. This "feels right" by the seat of the pants. Anyway you measure it, it's plenty fast, and more than capable of getting you in trouble. It is especially potent at things like 50-70, especially in Sport mode. The engine exhibits only a small amount of turbo lag, and prodigious torque (376 ft-lbs) which mean that even with small inputs to the throttle you get responsiveness.
As much as it pains me to admit it, the manual transmission is almost entirely dead. The number of cars with manuals is vanishing small in the US, and, for my taste, dual-clutch manuals and automatics are no different spiritually. It may be that my last car, with a 6-speed manual, is the last I have, and this makes me sad. While it can sometimes be tedious to drive a manual in traffic, I don't drive in traffic typically, so the loss of involvement is a bit sad. Having said all that, the Hyundai-sourced 8-speed automatic in the car is quite good. It never seems to hunt for gears, and, especially in Sport mode, is crisp in shifting and aggressive in downshifting. While the car has paddles for manually changing the gear, I find them almost never useful; the computer makes good enough calls most of the time.
I referenced "Sport mode" in the previous paragraph, which means that, like most cars above a certain point, the Stinger has multiple driving modes. There are 5-ish on the Stinger: Comfort (the default), Eco, Sport, Smart, and Custom. They sorta do what it says on the tin. Each of them impacts steering feel, suspension, throttle response, and a few other things including, in 2022, a small adjustable (but noticable) exhaust system. I leave the car in Comfort most of the time, but little bits of use of Sport on twisty roads, and Eco on long road trips. Eco is especially annoying in city driving because it (understandably) wildly reduces the sensitivity of the accelerator pedal. Even in Sport, however, the ride never veers outside GT car personality. This is not a sports car. This is a grand touring (GT) car.
The car handles quite well for its 4,000lb curb weight. Pushed to 80-90% of its limits, the car stays composed. It's only above that where the weight really begins to make itself known, and the suspension becomes slightly less well-behaved. But, given its GT nature, this is about what I would expect, especially given Albert Biermann's hand in the car; it shows. It manages to be something that you can enjoy just cruising around, whether on city strees or highways, and then throw into a corner for just a "spot of fun".
One note about braking. The GT2 models all have Brembo brakes as standard (4-piston front, 2-piston rear). One thing I've noticed, having had another car with Brembo brakes (Infiniti's original G35 coupe) is that these are much grabbier and offer less pedal feel. It's not that they're not strong, or that they're not capable, but they feel slightly detached from the driver, and it's taken some getting used to for me. There are reports of these brakes being subject to some fade under hard use, which is unusual for Brembo systems, but I suspect this would never come into play outside a race track, and that's just not this car's personality. In addition, when in Sport mode, the transmission is quite aggressive in downshifting, and this can accentuate the braking behavior by making for sudden changes in engine braking.
Gadgetry#
Since this is a new car, you know it's packed with gadgetry. The Focus ST was pretty much one of the last cars made without either a back-up camera, or even parking sensors, and while it had an "entertainment system", it was Microsoft's notoriously bad Sync 2 system with a resistive touch screen. This car is not that car.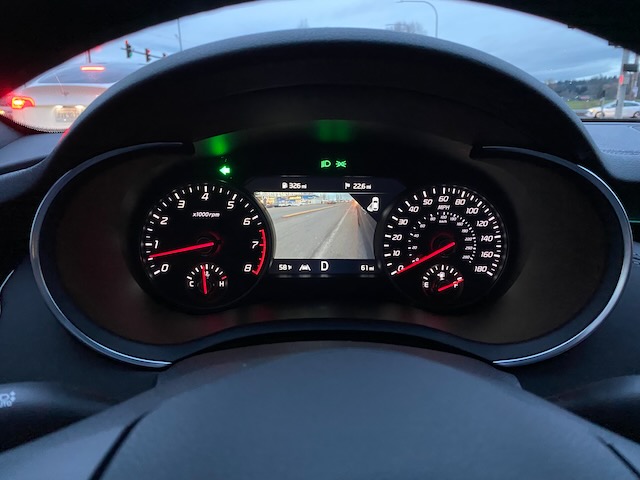 I'll start with the thing I use the most: the audio system. It's a 15 speaker system, with 3 speakers in each of the 3 doors, a subwoofer under each front seat, and a center speaker in the dash. All of that is backed by 720W of amplification, which is more than enough for any loudness I would want, even with the sunroof open. The sound quality, if you put it in "Reference" mode to keep the shenanigans to a minimum, is excellent regardless of input. Is it as good as my Focal speakers at home? It is not. But it is quite good, and more importantly, it sound natural, and not weirdly bass-heavy like some manufacturers. Additionally, it supports both CarPlay and Android Auto, and that's what I use for 80% of the time, except when I'm listening to KEXP .
Earlier, I mentioned that the gauge situation was mitigated by the heads-up display (HUD). The last time I drove a car with a HUD was a late 1990s Pontiac Grand Prix, and it was, like much about the car, mediocre. This one is crisp, adjustable for many things including what it displays and how it's displayed. I've found that because the speed is projected clearly in the distance (roughly the end of the hood effectively), I almost never need to look down at gauges. In addition, other things, like turn-by-turn navigation are available on it, although not from CarPlay. It seemed like a silly thing, and I was initially planning to just disable it, but it has turned out to be (like the heated steering wheel) an unexpected pleasure.
Next up is the cavalcade of safety systems. I'm not sure I could even enumerate them, quite honestly, so I'm just going to steal them from their website:
Blind-Spot Collision-Avoidance Assist (BCA)
Safe Exit Assist (SEA)
Rear Cross-Traffic Collision Avoidance-Assist (RCCA)
Driver Attention Warning (DAW)
Forward Collision Warning (FCW)
Forward Collision Avoidance Assist (FCA) w/ Pedestrian Detection
Lane Departure Warning (LDW)
Lane Keep Assist (LKA)
Lane Following Assist (LFA)
Smart Cruise Control w/ Stop and Go (SCC w/ S&G)
Basically, it is always watching everything. There are 4 wide angle cameras, and I believe 4 different radar sensors. Everything works really well, and LFA + SCC works insanely well on the highway. It's not "autonomous driving", but it's very good, and it reduced the mental wear and tear on me when driving the long road-trip. The only negative I have is that the forward collision warning system is very sensitivein ways that seem counter-intuitive. It has, on multiple occasions, triggered while I was stopped at a light, behind another car that was stopped, and neither of us had moved. It's annoying, quite honestly.
But other than that, it's been a boon, and it's nice to have a car with parking aids. The Focus ST didn't have backup distance sensors, much less a camera of any sort. The Stinger has both, and a full "surround view", which is of limited value. What is valuable, and is shown above, is the in-cluster lane change view, which uses the side cameras to show you what's in your blind spot, and is also useful when parking to help prevent curbing the wheels.
Finally, a word about the LED headlights. They are clear, bright, and in a neat nod to more active headlight systems elsewhere, they move left to right at low speed to help you see better. Unfortunately, they do not have the kind of range that the Focus ST's HID lights had. This is partially offset by auto-highbeam tech, but it's still annoyingly limited view at highway speeds at night.
The Bad#
The bad is really restricted to a couple things. First, Kia dealers are Kia dealers, and that comes with all the issues you might imagine. Fortunately, I was in a good position so it didn't impact me much, but there was definitely the constant pressure to buy various pointless add-ons. Second, and related to the Kia dealer, was the fact that – for reasons that are totally inexplicable on an over $40,000 car – the car didn't come with floor mats. When I called the dealer, first they said they couldn't find them, then the car came without them. Neither of these were satisfactory answers. I ended up buying new mats from a dealer in our destination, and Kia corporate made me whole, but the entire thing was unpleasant. Don't nickle and dime people at that price. This is/was Kia's halo car, not a Rio.
Finally, gas mileage is mediocre at best. I knew this going in, and it's marginally better than EPA and magazines report, but that's still not great. Turns out a 368HP twin-turbo V6 in a big sedan is thirsty. I did manage to get 30MPG+ on the highway, but in the city is not great. Fortunately for the environment, I simply don't drive that much, and am financially comfortable enough that the cost isn't an issue.
Oh, and one final nitpick. The car is actually a three-zone HVAC system. The front two zones (driver and passenger) are controlled with easily understood and manipulated knobs, and are automatic at maintaining a temperature relatively simply. The rear has its own "zone", but, for the first few months, I didn't realize that. It's not clearly marked or documented (and I read just about the entire owner's manual), and I thought maybe something was broken. A quick Internet search told me that there's actually a center vertical dial in the back of the center console that controls the blend of cold/hot air. This is terrible design, and multiple rear seat passengers didn't really understand what the dial was for, thinking it was for air volume control.
Overall#
On a scale of 1-10, and taking into account its target goals, I would give the Stinger an 8 or 9. It's not perfect, but then no car really is. It's also not the greatest value in the world, but it's no worse than an Audi value wise, and much cheaper. Having owned a lot of cars over the last 30+ years, this ranks near the top. It's both fun to drive, but also comfortable. It's practical, and, I think, very beautiful.
All, in all, I'm quite happy.