Recipe - Lemongrass, Makrut Lime, Ginger Pudding
Depending on the week, and mood, I tend to cook a decent amount of Thai and Vietnamese food. That means that certain ingredients (lime, lemongrass, ginger, etc.) are commonly available. This morning I wondered if I might leverage them to a sweeter purpose than the normal.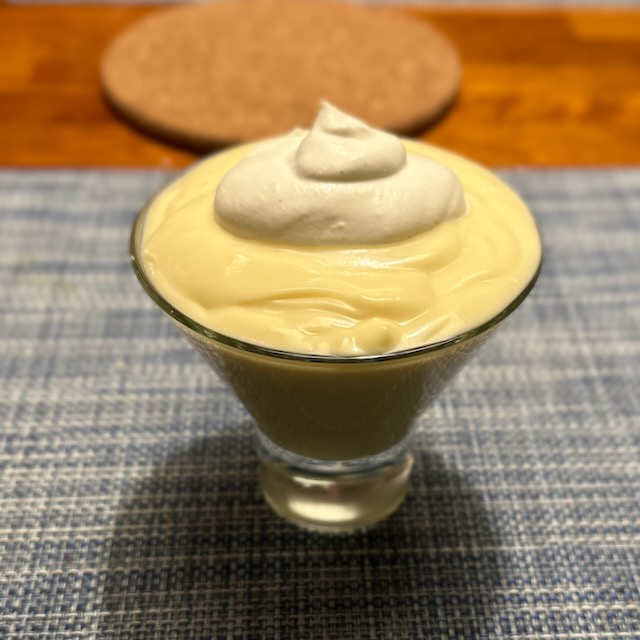 Makes: 6-8 servings
Combine in a large sauce pan:
1 can (14.5oz)/Tetra pack (8.5oz) of full-fat coconut milk (I like Aroy-D)
Enough whole milk to make 5C when added to the coconut milk
15-20 Makrut lime leaves .
1 stalk lemongrass, the outer dry leaves removed, the white and light green parts cut into 5-6" pieces and crushed.
3-4 "coins" of fresh ginger (no need to peel)
7oz sugar (palm sugar preferred, but regular white sugar is fine)
1/2tsp Diamond Crystal kosher salt
Heat over medium-low heat until it reaches a bare simmer (180-190F) and the sugar is fully dissolved, stirring occasionally (3-5m) to ensure nothing sticks or burns.
Cover and remove from heat. Allow to steep for 30-45 minutes.
Once steeping is done, return to the heat over medium-low to medium, and bring the mixture to a bare simmer (180-190F). Remove all lemongrass and Makrut lime leaves from the mixture.
While re-warming, in a bowl large enough to hold all the milk mixture, combine:
2oz cornstarch
6 large egg yolks
1/2C whole milk
Whisk till fully dissolved and smooth.
Slowly drizzle the hot milk mixture into the cornstarch and eggs mixture, continually whisking to ensure the eggs temper properly.
Place a strainer over the original sauce-pan, and pour the tempered egg mixture into the pan. Return to heat, and whisk continually until the mixture reaches 180F, at which point both the cornstarch and eggs will reach their maximum thickening power.
Remove from heat, and strain into a bowl (the original one is fine), making sure to wipe the bottom of the strainer. Whisk in:
4Tbsp cold butter, sliced into small bits.
Place in either individual serving containers, or a larger storage container, and cover with either plastic wrap or wax paper. This will reduce skin formation.
Chill for at least 3 hours before serving. Serve plain, or top with very lightly sweetened whipped cream with no additional flavor added.